3 Tips To Increase Traffic at Your Next Trade Show
6/7/2019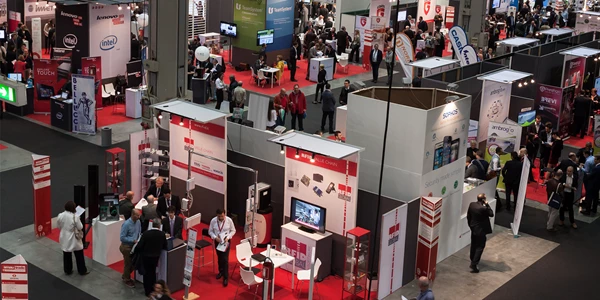 Trade shows help you get your name out and find leads. These events are also opportunities to learn more about your industry and network with other companies. To help boost engagement at your next expo, and make a lasting first impression, implement these 3 tips:
1. Make a Statement With a Combination of Trade Show Products
The first thing attendees will notice about your business is its display - your booth needs to easily identify who you are at first glance and adequately express what you offer.
The best way to make a solid statement is to create a clear and cohesive look.
Start with the backdrop, the largest and most visible décor. It should at minimum display your company name, logo, and slogan. It can also have a high-quality image, such as an example of your work. Place a smaller banner on the side to highlight contact info, current promotions, or qualities that set your business apart where a passerby can easily read it. For optimal effect, use a variety of other tools as well:
Branded tablecloths and detailed table banners
Customized or patterned floor decals
Matching apparel and ID badges for brand ambassadors
High-definition visuals such as artwork or charts
Additional lighting
Product samples and demonstrations
Seating for visitors
TV screen to play relevant videos
The more inviting your display is, the more people will come to it. However, it's easy to go overboard with the design, which will turn away visitors and detract attention from your message. Find a balance between "less is more" and "go big or go home." Stick to a maximum of three colours. Use appropriate typography style and size for banners and other exhibit signs, keeping important text at eye level. Make sure the layout of your booth is visually attractive to attendees.
2. Attract Attendees Through Fun Games
This may be a trade show, but providing some entertainment will draw more people to your exhibit. Choose games or activities that are social, fit your audience's tastes, and allow multiple people to play at once to prevent long waits for a turn. Always have an appealing prize for winners and make sure everyone leaves with a promotional item. These are a few games ideas you can try:
Trivia: Find out how knowledgeable attendees are through a trivia game. It can include general facts (such as pop culture) or be specific to the industry (such as relevant people, events, and terms).
Roll the Dice: Buy large, blow-up dice, and have people roll them. Those who get doubles win a large prize. This game doesn't take much time and is easy for everyone to do.
Plinko: Another simple game is Plinko. Players drop a chip down the Plinko board to try to land it in the slot of the prize they want. It's a good balance of luck and skill.
Photo Contest: Create a photo booth with props for people to take funny pictures on their smartphones. Have them post the photos on your social media page or with a specific hashtag. Let others vote on which is the best.
Don't make games too hard, or you'll discourage your participants. You want them to have a positive experience even if they lose. When attendees see others having fun at your booth, they will come over to watch or take part and then encourage other attendees to stop by if the experience is memorable.
3. Offer Enticing Giveaways
Everyone loves free stuff, and this can tie in with the games and activities you prepare. The great part about giveaways is that you have the opportunity to collect information while they are at your booth. Try to offer at least one expensive or valuable item that fits within your budget to attract the attention of as many attendees as possible. On the other hand, some people prefer multiple smaller prizes because the chances of winning go up.
Need help showing off your company's personality? Contact your local KKP Team for help with your next trade show!
Make the most of this opportunity by putting in thought and care to the appearance of your exhibit. For display banners, branded gifts, and more, check out the trade show products KKP has to offer. Fast. Local. Personal. For over 35 years, KKP has been supplying a comprehensive range of high-quality print, design and sign services as well as marketing assistance to Canadian businesses.
Back